First click Community, then Friends.
Then Click Profile, then Click Add Picture.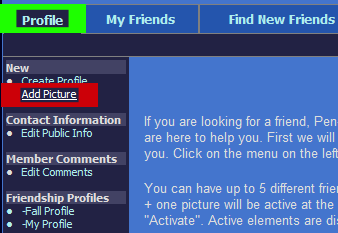 After you've uploaded your desired pic to your hosting website (such as Photobucket or TinyPic) take the DIRECT LINK and after deleting the "http://" part on the page below paste the Direct Link there then name the picture and click ADD. DON'T CLICK add doll, it'll take you away from this page onto premade dolls (that aren't that great).