Curriculum and Dorm Rules:
Each period lasts 35-40 minutes, there's eight of them in a day, with a ten minute break after the first 20 classes and a hour long lunch after the next three. School starts at 9:40 and ends at 3:40.
After school there's two hours and twenty minutes to spend free. At 6:00, every students must go to the dorms for an hour of study. After that there is free time until 9:00, but you have to stay on school grounds.
Weekends are free to wander the city, but only within a set area.
Most of the subjects, apart from Maths and Computers, are project-based.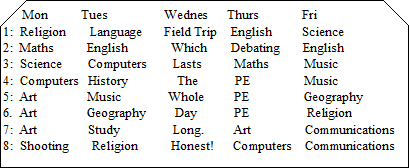 If you're confused about anything, just ask.
As for sports, there's no darned football team. There's basketball, that's
it
. The whole thing of calling rugby football and football soccer confuses me.
School Guidelines, as told by the principal:
1. Bullying will get punished if discovered. If you're being bullied, tell the principal (Me). She(I) has(have) an open door policy.
2. Lights out at 10:00 weekdays, and 11:00. No excuses.
3. Good hygiene, mmkay? A full bath every three days, but don't use all the hot water. Or the soap. You're paying for it if you do.
4. Necessities are provided, however other items must be paid for out of your own pocket. No freebies. And no interest on loans!
5. If you have to have *ahem* relations, please use protection. I'm not paying for childcare. If you are up the duff, I happen to know the number of a clinic that can fix that.
6: All students are to have the following: Phone, headphones (MP3 player optional) and digital watch. We'll pay, honest. Just not for the MP3 player.
7: While there may be no uniform, please try not to look like you're walking the streets. It's not pretty, and it's not sexy. And if someone offers you twenty bucks for a bit of rough and tumble, not our fault.
8: The type of room you get in the dorms all depends on how much you're willing to pay. If you don't like it, then get out. kthnxbai.
RP Rules:
1. PG-13 romance.
2. No Mary-Sues.
3. HoC Rpers ONLY.
4. All characters are about 15-17 and in Year 4.
5. No charrie limit.
6: Other standard rules.
------
Bio Sheet
Name:
Age:
Clique, if any:
Appearance.
Brief Background:
-----
Name: Aldo Carias.
Age: 16
Clique, if any: Canine - Vulpine.
Appearance: Dark reddish-brownish hair, tanned skin, green-gold eyes. Slim, average height.
Brief Background: Moved to Garshama when he was ten. Is a ward of the state, as both parents died in a fire. He's very bitter over life, and hates most Plastics with a passion.
Name: Adin Carias.
Age: 16
Clique, if any: Canine - Vulpine.
Appearance: Dark reddish-brownish hair, tanned skin, green-gold eyes. Slim, petite.
Brief Background: Same as Aldo, except she's not bitter at all. Adin's more of a peacemaker, and kind of a loose woman. She's nice to most people, as long as they're nice to her.
Opening post:
It was Monday, and the start of the new school year. On first Mondays, it was a short day and class began at 2:00, to give everyone time to arrive and unpack.
Of course, some had not left the school at all over the summer, those being the wards of state.
One such ward was sitting on the dorm steps, checking out any good-looking fellas going past, "Ooh, hottie."
"Adin, stop that."
"Bwuh?" She raised her head to find her big brother standing over her. "I'm only looking, Aldi."
"Don't call me that. And stop it, surely there's something else to do."
"Meanie." Adin stuck out her tongue at him as she got up, "I'm bored of just looking anyway." She trotted off.
Aldo rolled his eyes and sighed.