Plot:
From 1987 - 1991, Scientist Dr. Bob Hawthorne had been secretly cloning people. Not just any people, though. Babies. He had been working as a Obstetrician or Gynecologist, which is a doctor specializing in pregnancy and women health, in England for all those years. It wasn't hard to pluck a tiny hair from the children while they weren't looking. In late 1991, he vanished one day after work. Nobody knows exactly where he went, or had any clue about the cloning. The real reason he had went away was to dump the highly realistic clones in an adoption center across the sea from the United Kingdom... In the United States of America, hoping that no one would ever find out. It is now 2007, and still no one has found out. Not even the clones, or their adoptive parents.
Character Form:
Name: ______ / ______
Age: ____
Clone or Human: Clone / Human
Appearance [Discription, dolls, photobucket] : ________ / ________
Personality: _____________ /____________
Other: _____________ / ___________
Rules:
1. Advanced RPers only. [If you aren't sure if that applies to you, PM me]
2. All standard RPG rules apply.
Other [RP start, my charrie, etc]:
RP Start:
The RP starts with the clones [in America]. It's their last day of school and they're going on a summer trip to England. The bell has just rang for dimissal, so they're on their way home.
My Character:
Name: Destiny / Jade
Age: 17
Clone or Human: Clone / Human
Appearance: [Clone on left]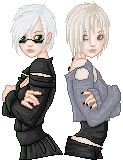 Personality: Anti-social, poised, poetic. / Smart, clumsy, more social then her clone.
Other: Only child. Knows a lot of languages. / Drop-out. Has a younger brother, and an older brother.
Doll Credit:
Doll credit goes to
Suspicious Hat Pixels - v 99. Lazy Shatter Demons
. She has two other ones like this [two people who look alike] if you're interested in seeing them.