| | |
| --- | --- |
| Wayarie | 02-26-2007 03:32 PM |
---
<RP> The red moon

This is an RP about a world where witches and faries live. It is called the land of the red moon. Cos well it has a red moon and a white sun. In this world the difrent races used-to live in peace and harmony. Until an evil Queen tane over the world. Her name is Sang-luu. A picture of her:
The evil Queen has the powers of both witches and faries.
The leader of the faries ,Alenore,picture:
Faries have powers like, diverting light. Anything to do with light things, and or good.
The leader of the witches, Sarina, picture: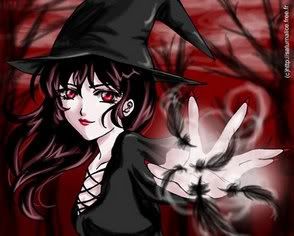 I am the witches second in comand in this RP.
Name: Florina
Special power: Hipnotising
Race: Witch
Plz join in8)