I love drawing anime charters and i love making dolls. So i thought why dont i open a shop since it never busy on here any more so i doubt i have more then 5 request at all.
I can make you a doll and draw it as a anime or draw one of you dolls to anime for you.I love doig this so if you think i cant manager it i give it a great good try.
well here the form for doll request to anime
Gender:
would you like it a suprise?:
(IF A SUPRISE STATE YEAH THERE AND DONT FILL OUT THIS FORM JUST NAME SECTION AND GENDER)
Hair colour:
Hair lenth:
Top style:
top colour:
Bottom type:
bottom colour:
shoe type:
shoe colour:
anythinng else:
name of oc:
sketch/digital?:
Note i will add the doll up as well ;D
your doll 2 anime:
what the url of the doll?
name:
anything else?:
is it a gift for someone else:
if yeah please state name:
sketch/digital:
example
Lucifrette made me lolly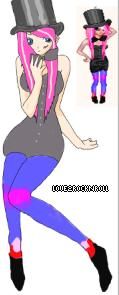 she not perfect but she just a example i draw better sketch