Hmm, I'll definitely keep that in mind next time I attempt any form of lower-body clothing. Also, thanks! Yes, it appears that in terms of handdrawing, hair is my forte...which is why I wanted to do another portrait. Not really any other reason behind this one: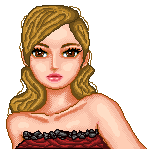 Base credit:
.: Menta Base :. by ~SilverHealer on deviantART
And now for the big copy/paste from dA:
'Right, so I was fooling around with Pixlr for no reason in particular, and I decided to practice some hand-drawing. You know, why not? Anyway, around 11:30 last night, I had this really awesome semi-self portrait, and I'd thought I had saved it, but I hadn't, and I was very, very angry. It was quite honestly my best pixel work to date. So when I woke up today I decided to try again, with the same color scheme for the shirt, but instead of brown hair, I gave her blonde because I was too lazy to go get another palette out of my files. The more I worked on her, the more she started to look like Rosalie from the Twilight books. So I went with it and changed her eye color. It wasn't really supposed to be her, but it ended up looking like her, so I made an executive decision that it is her.
The gray stuff on the top of the shirt is supposed to be tulle or something else fringe-y.
Rose (C) S. Meyer'
EDIT: Since I made another doll within 48 hours, I figured I'd better just edit this rather than double-post. It's different when there are months in between dolls.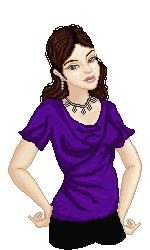 Base credit:
Silindor
Copy/paste 'cause it's 4:30 in the morning:
'So, on my last doll, I lost the doll, but it inspired me to actually try to intentionally do a self-portrait.
What I love: Her hair. It looks so stranded and shiny and pretty and real (as far as pixeled dolls go, you know....). Aaand...I actually own, and have worn multiple times, the shirt I drew myself wearing, as well as the necklace and earring. Basically, this is my Indigo Jazz outfit minus the fake hair. Not that that would have been too hard, but I know zip about pixel shading updos.
What I hate: The shading on everything BUT the hair. It's better than past dolls, but my highlights are all over the place, I feel like my light source was having an identity crisis, and I fear I'm breaking one of the worst rules to break in terms of pixel-shading: does it look pillow-y to you? Or am I just paranoid?
Anyway, CC from anyone with experience in pixel shading is encouraged and welcomed!'
Also, I didn't want to even bother with pants at this point, so I literally paint bucketed the visible part of her legs black because the paints that go with that outfit are black. is anyone good at shading dark "monochromatic" things?