| | |
| --- | --- |
| MissCrunk | 10-01-2008 10:15 PM |
---
My Dolls... Theyre kinda cute. ._.

Also, I finally found out how to use an edit button, so I'll try to keep the first post updated so you guys don't have to scroll down... =]
I made the shirts at like, 12 am last night. I think I'm getting better how figuring out how to do folds.
Pokemon Tshirts.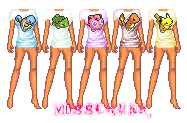 Sorry it took so long for an update, My computer crashed and it was very ahrd to get it working again. Anything here are some shirts I edited, were inspired by other designs and an orignal design by me (the cobwebs.)