While Miss TDP is still in the works, we have decided to do this contest as a taster to keep you amused til it goes up. Inspiration was taken from the Mary Sue pagaent and combined with an idea of mine to make this contest. All are welcome to enter, experienced dollers and newbies alike, as it's not necessarily skill at dolling that will win this contest. PM me for help, if needed.
What you need to do is to create the most sickly sweet, the most hideous, the most convincing Mary Sue you can possibly imagine. If you don't know what a Mary Sue is, read this:
[x]
Create a doll portraying your Mary Sue in all her glory, and a profile to show off the full extent of her Sueishness. There will be three rounds, and each round is worth ten points; five for the doll and five for the profile. These points will be awarded to each entry by the judges; myself and Silent_Wolf. The competitor with the most points at the end of competition will receive a doll made for them by one of the forum staff.
Example.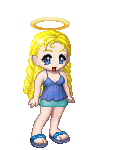 Name:
Rowanna Mystick Angel Demetor.
Age:
Fourteen; she's in fifth year tho cuz she was moved up a year due to being so clever.
Fandom:
Harry Potter.
Appearence:
Hair the colour of the sun shining on ripening wheat, eyes like limpid pools of sapphire, curves in all the right places. Rowanna's hair is so long that it reaches the floor. She is breathtakingly beautiful, and cuz of this, she has been allowed by the teachers at Hogwarts to wear her own clothes.
Personality:
Rowanna is kind, good, helpful and friendly to everyone. Sadly, a lot of other girls are jealous of her beauty and make fun of her.
Powers/Skills:
Rowanna is half angel so she has all the powers of an angel. Her wings are invisible, and she can hide her halo if she has to. She is an excellent Quidditch player, and is the top of her class.
Bio:
Rowanna is an exchange student from America. She was so clever that she was immediately moved up from fourth year to fifth year. She was sorted into Gryffindor. Rowanna is currently dating both Draco Malfoy and Harry Potter, who regularly fight over her in both class and outside of class. She is on the Quidditch team, as captain; Oliver Wood was so blinded by her beauty that he insisted that she take his place as captain of the team and also as Keeper. Her best friend is Hermione, and Rowanna's even cleverer than her and regularly helps Hermione with her homework. Her main enemy is Cho Chang, who is jealous of Rowanna's beauty and cleverness.
General Competition Rules.
1. Character.
When entering, you need to enter with one character and stay with it the entire time. This means that your doll's hair and skin colour must remain the same throughout, unless otherwise stated in the round theme.
2. Base.
You must use the same base set throughout, so pick one with a variety of poses. This base should also be medium in size for handdrawn dollers (comparable in size to the "Moe" bases here:
DHF : Doll on the Hill Factory
). Dollmaker users should use the shuni style base.
3. Theft.
No stealing the work of another. This applies to both handdrawn and dollmaker participants, so do not submit a doll that someone else made or, for handdrawn dollers, mix and match pieces of completed dolls that are not your own. All work should be original and failure to comply will result in disqualification.
4. Props.
Props and backgrounds are encouraged, but should not be massive. We will ask too large of entries to reduce their size, so be reasonable.
5.
Transparency.
We ask that all dolls have transparent background and is a GIF file. If you don't know how to do this, see the following thread:
How to Make Backgrounds Transparent
6. Forbidden.
Sexually explicit, nudity or overly bloody dolls are forbidden. Entering one could result in disqualification. Also, animation and glitter is not allowed as it creates an unequal field for those who can't animate.
7. Theme.
Every doll should relate to the theme. While we encourage creativity, failure to keep with the theme can get you eliminated automatically that round.
8.
Judges.
No one is allowed to use friendship or promises to sway a judge's decision. Threats, bribery, and attempts to interfere or discover the judge's decisions in anyway will result in disqualification. Arguing with the judges can result in an automatic elimination.
9. Competing.
You can only submit one entry for each competition, so choose wisely.
10. Entries.
You may enter both competitions if you wish. Make sure, however, that you do not enter the same profile for both competitions; it must be different.
Each entry must consist of a doll, to represent the Mary Sue, and a filled out character profile/drabble, as in the example. Please choose one fandom (for example, Harry Potter) or crossover, and stick with that throughout the entire competition. I would advise you to not go for an obscure fandom, as doing so will make it difficult for the judges to fully judge your entry. In any case, the Mary Sue will be more powerful if everyone is aware what canon she's destroying. The Sue used in the example is a Sparklypoo Sue but you can use any kind; Gothic, Warrior, Tragic, Vampire etc. Be creative!
Round 1: Introducing The Mary Sue.
This round is for introducing your Mary Sue to us all, and showing us exactly what she's made of, whether it be sugar and spice and all things nice, or alternatively, rebellion and darkness and all things nasty.
Name:
This is the name of your Mary Sue. Sues tend to have flowery names, with far too many middle names and sometimes names that describe their appearence.
Age:
The Sue can be any age; she is often the most accomplished at a very young age in her chosen field.
Fandom:
The fandom you have chosen. Crossovers are most definitely allowed; please list all concerned.
Appearence:
The Mary Sue's appearence is the most important part. Be creative in describing her, use purple prose and flowery description.
Personality:
Not as important as her appearance, but remember that Mary Sue has no faults to speak of.
Powers/Skills:
Mary Sue may not have supernatural powers; if your Sue does not, then list any skills she might have.
Bio:
This is where you introduce your Mary Sue to us and tell us about her back story.
Please submit all Handdrawn entries here. The end date is September 25th, tho in case of emergency (for example, illness, holidays), PM me and I will grant you an extention.
Good luck!